POSTS
Publishing manual updates on your public status page
Today we published new version of AppBeat with following changes:
you can now disable outage notifications for built-in Admin contact by double-clicking it (Contacts / Users)
paid users can now select continents for preferred test location: Asia, North America, Europe (Account / Check settings)
browser tries to remember collapse state of "Individual check statuses" in "Live status" view
added "Public status / Status Updates" - you can now add manual status updates for your visitors
"Delay alerts" is temporary disabled and removed from user interface. It will be again available in future versions.
update other minor improvements
If you experience issues with your online application, you can now publish manual status updates for your users. To publish new status update select "Public status / Status Updates" from AppBeat menu and then click "Add new entry" button. Following dialog will open: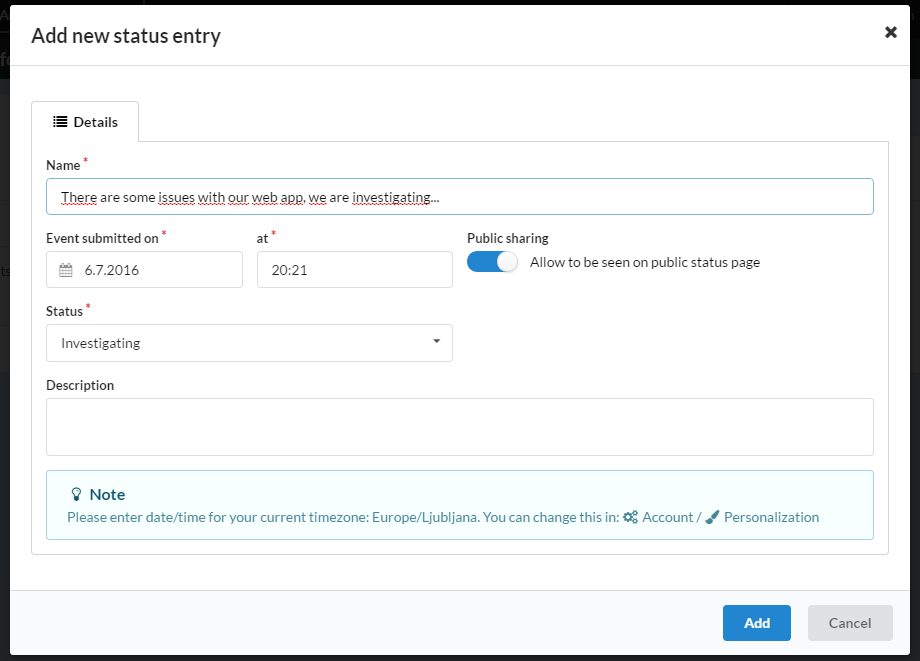 If your public status page is publicly enabled you can preview your newest status by selecting "Public status / Dashboard" and then clicking "Show public preview" link in top right corner. You will see something like this:

This feature is also available in our Free plan. If you are not yet AppBeat member you can sign up now. Registration is very quick and it is free (no credit card required).
In future versions we have plans to enable custom domains for AppBeat public status pages. Stay tuned…