POSTS
Monitor websites with ease
If your technical support is using AppBeat Live status screen to monitor current performance and availability of your systems, we have new useful feature for you.
You can now enable sound alarm which is automatically triggered when "Live status" icon turns red. This additionally minimizes chance for missed alarms (other notifications, such as Slack, PagerDuty, email, SMS are of course also dispatched as configured).
You can enable / disable this feature by clicking bell icon as shown below: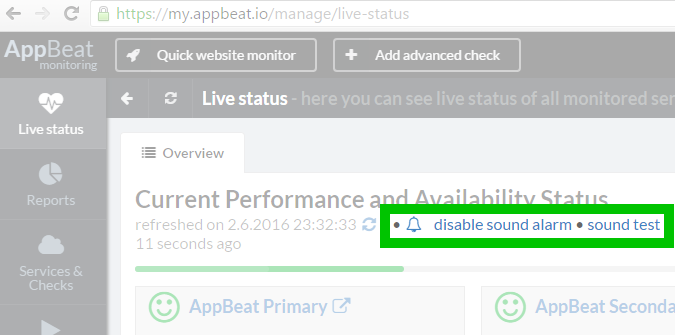 Before relying on this functionality please click "sound test" link to see if your web browser supports Audio API. Most modern browsers should support this feature out of the box. If everything works you should hear test alarm for approximately 15 seconds.
Would you like to see this feature in action? Sign up for free account and try it yourself!