POSTS
Houston, we have a mobile app!
The AppBeat Android app lets you connect to your AppBeat uptime monitoring service from anywhere, anytime. You can view current live status of your checks and do basic check management:
• create simple web checks
• pause/resume specific check or entire group of checks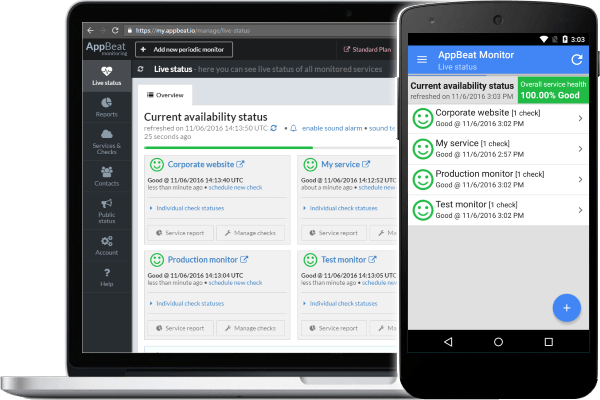 For more powerful management you can always login to our web application at https://appbeat.io where you can:
• view uptime / downtime reports, performance reports and incident reports
• check your monitoring logs
• add other check types: HTTP(S), HTTP/2, IPv4, IPv6, Ping, SSL, DNS, UDP, TCP, IMAP, POP3, SMTP, SSH
• setup public status page
• enable third-party notifications: HipChat, PagerDuty, Pushover, Slack, StatusPage or dynamic webhooks
• enable API access which allows you customization or use our cross-platform command line tool: https://appbeat.io/automation
Best of all, you can your AppBeat account for free - no credit card required, nothing to lose!
Performance and uptime matters, start monitoring now: get your Android mobile app from Google Play!